Almost three billion people are estimated to be using smartphones worldwide currently. This Statista estimate is sufficient to get an idea about the importance of mobile apps. To capitalize on the ever-increasing number of smartphone users, businesses across various sectors jump on the mobile app bandwagon and hotel or hospitality sector is no exception. Restaurant apps like Jumia food, KFC, Uber eats, Swiggy, and Yelp have set new milestones of popularity and revenue. For example, a mobile app is responsible for 16 per cent of total transactions of Starbucks.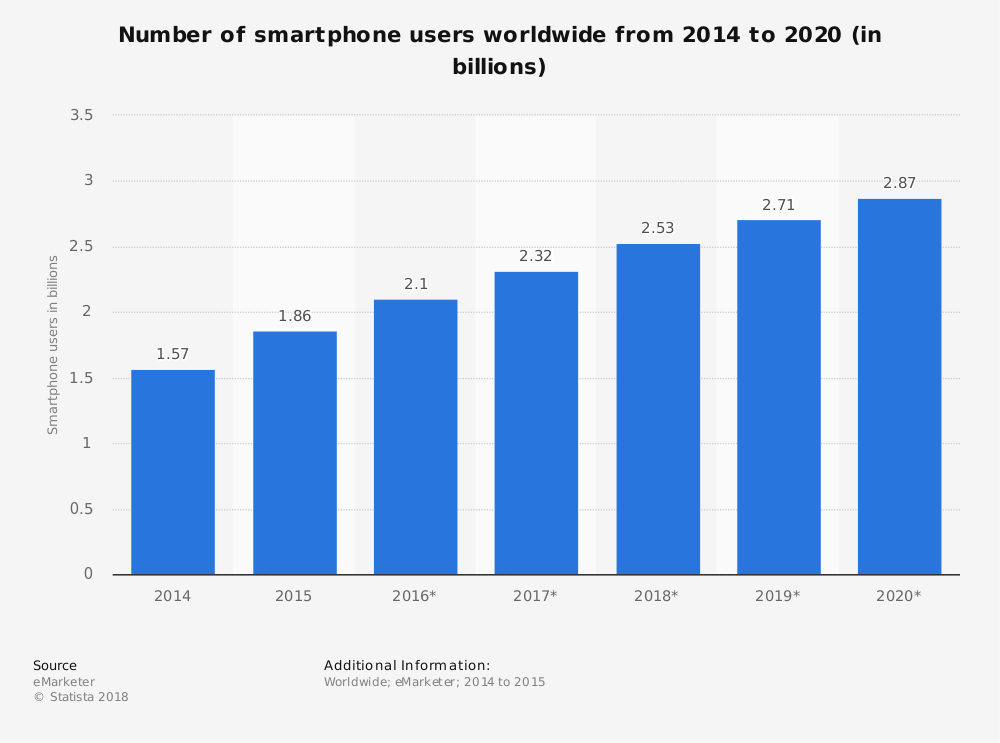 Be it a coupon app, restaurant wait time app, restaurant rating app, or on-demand food ordering app, various types of restaurant mobile apps gain ground because of user-friendliness and convenience they offer to both existing and new customers. If you are a restaurant owner, a feature-rich mobile app can offer a plethora of benefits and helps you expand your business.
We have got fourteen noteworthy business benefits of a restaurant mobile app development. What's more, we are giving real-life use cases to let you do the easy math on the potential revenue and customers you can earn through restaurant apps:
1. Location and localization
The iBeacon technology assists the brick-and-mortar businesses to attract customers who walked within a specific radius of their premises. For example, if your customers are in the 50-meter radius of your restaurant, you can readily send them push notifications to your app users and inform them about discount offers, food specialities, and the like. In a way, you can eliminate or hasten the decision-making process of the users if they are hungry.
2. Loyalty Programs
During Black Friday, Kampala restaurant week, Kampala burger week and other festivals, you can run a campaign to earn double loyalty points through a mobile app. Loyalty program is one of the most effective and cost-efficient marketing strategies that can give up to 780 per cent RoI on the money and time invested. What's more, mobile-based loyalty programs can give your users a personalized touch and they can willingly participate in such a program. You can also opt for a referral program to attract more people through a mobile app.
3. Easy Order Fulfillment
An online food ordering app can simplify the order process. It eliminates the requirement of hiring a dedicated person to attend the customer's calls for a day. The app user can readily put the order using the mobile app along with any special instructions, and your staff can get the food ready accordingly. An ordering mobile app also enables you to get rid of address and payment-related confusion with in-app payment facility.
4. Target Millennial People
Take an example of 18 to 34-year-old people. Yes, I am talking of millennials. As per Food Tech Connect survey, 35 per cent of millennials love to place their orders on smartphone or tablet and 40 per cent of them prefer a mobile payment option if a restaurant offers a quick service. In brief, you can readily target millennials with a seamlessly-performing app.
5. Online Reservations
One of the most important objectives behind developing a restaurant app is to offer your app users a facility to reserve their table online. Your existing customers can book their table online even during weekends and festive season without any hassle. This facility helps your customers get rid of the restaurant's noisy background and busy call lines while booking. If you will give online and offline options to your customers for reserving their seats, they will prefer the online option for sure.
6. Improved Services
Let's take an imaginative scenario: You run a fast-food shop and get orders from surrounding companies for the lunch hour. Now, your shop has a small standing room in the front. How would you cope with a crowd of sweaty and hungry people during lunchtime every day? Here the mobile app comes to your rescue. It facilitates your customers to give online order and your staff can prepare an item for immediate carry out. Your customers need to spend only a few moments at your shop while taking delivery of their orders.
7. Social Media Advantage
Word of mouth and social proof can work wonders in ensuring the success of your restaurant business. When you offer reservations, ordering, and payment facility together through an app, chances are fairly high that you will start getting positive reviews and social sharing. Mighty social media platform can boost your reputation that eventually leads to an increase in sales.
8. More Reviews
Reviews matter a lot in the online world. If you want to build and improve the reputation of your restaurant business, you need to ask your customers to leave a review. Your mobile app can do this job for you. You can also send push notification to the customers for reminding them about leaving reviews on Yelp or other related websites.
9. Increased RoI
Most people have a plan to dine out during the weekend. You can send a push notification to your customers regarding special weekend offer through an app. You can highlight your specialities or discounts in a notification with ease. You can also send personalized notifications about 'Happy Hour Meal' and coupons. All these activities contribute to increasing RoI and boosting your business.
10. Show Digital Menu
How about showing a neat and elegant menu on the mobile screen to your customers? Yes, an easy-to-access digital menu in the app is way more impressive than a mobile-responsive web version. According to the official survey, 62 percent of customers are less likely to visit your restaurant if they cannot see the menu easily on the mobile device.
11. One-touch Dialing
You know that it is always frustrating to find the contact information in Google, jot it down, and call the firm to get an answer to your query. The mobile app brings the solution to this trouble in the form of click to call feature. Your customers can easily contact your restaurant with this tab if they have any questions regarding the menu, location, reservation timing and confirmation, etc.
12. Coupon Redemption
Coupons have remained a time-tested way to boost any business through appealing a huge audience. The first coupon was offered by the Coca-Cola company in 1887. The coupon helped the company to expand its business and by 1895, Coca-Cola became a national brand in the US as it was sold in every state. Coupons worked at that time and today is no different! What's more, you can deliver coupons via a mobile app and simplify the process of redemption.
13. Increase in Referrals
There is no exaggeration in mentioning that a mobile app with a user-friendly interface and flawless performance can act as the most powerful marketing tool. You can run a marketing campaign for your restaurant business to increase referrals. If customers participate in your reward program willingly then you can compel them to send SMS or social referrals to their contacts in lieu of more reward points.
14. Images Speak Louder than Words
An unofficial survey has revealed that the impact of enticing images is more on the mobile devices than that of on the laptop. Images of delicacies can prompt desire of your customers and they are more likely to give you an order.
In a nutshell, if you want to increase sales through spreading awareness of your business online and target a huge smartphone-using audience in the nearby area, the customized mobile app always remains handy.
After knowing these benefits, you may think a restaurant app development cost, right? Let us get some idea about it, but before that we need to look at the most obvious features of your mobile app.
Basic features to be included in your app
Functionality plays a vital role in making your restaurant app successful. Though you need to decide the features on the basis of your business model, size, and various other factors, here we give a concise list of necessary features:
1. Menu
We cannot imagine any restaurant app without a menu. An easily accessible and attractive menu can invite more people. The digital avatar of menu also needs graphical presentation and food images to entice users.
2. Order Form
If you want to enable your app users to give an order through the app, you need an order form. An app-based order remains very convenient for the working people and who prefer texting over a phone call.
3. Reservation Feature
Apart from facilitating an online order, you need to integrate the table reservation feature to enrich the user experience. Your app can show the schematic illustrations of both vacant and booked tables to assist your customers to decide the table as per their choice.
4. Ingredient Selection
What if a few of your customers have an allergy of some food ingredients or have a special choice for topping? You can add the ingredient selection feature to give your customers different choices. You can also include a separate section for customized dishes in the categories of sandwiches, pizza, etc.
5. Feedback Section
You need to give a separate tab for feedback in the app to show objectiveness of your business. Reviews and feedback are always helpful to improve services and establish a brand reputation. The feedback feature can prompt your customers to give reviews.
6. Push Notifications
As we mentioned above, push notifications can serve many objectives easily. You can increase sales and earn more profit by using notifications properly. The app development cost does not get affected significantly because of this feature, and you can get numerous advantages. Geo-targeted push notifications can help you address new visitors who come in the vicinity of your restaurant.
7. Personalized User Account
A mobile app is a wonderful tool to offer an individualized and personalized experience. An app-based user account can enable users to manage their orders and apply a personal discount or loyalty discount. The user account also facilitates the users to pay either by a banking card or an eWallet for their orders.
8. Calendar
An event calendar can serve two purposes: On one hand, it enables you to show promotional offers during the festive season, and on the other hand, your app users can see various events along with promos and make the plan accordingly. In a way, the calendar feature helps your customers to plan their celebrations in advance.
9. Social Network Integration
It is better to integrate the signup process with a social network. Your customers can readily register using their existing FB or Instagram account. Social media integration also improves the accessibility and offers a pleasant UX. Also, the built-in social network enables your customers to spread a good word about your restaurant if they get a pleasant experience.
Well, these are some most obvious features for your restaurant app. As per your business requirements, you can add a few customized and specific options in these features, but it is advisable to include these features in the application.
How much does a restaurant app cost?
A restaurant or food app development cost depends on the number of features integrated into the app as well as the development time. When you consult us, our mobile app developers can help you make an MVP (Minimum Viable Product) as per your restaurant business requirements. For example, if you run a fast-food chain, then you do not need the table booking feature, whereas, if you own a restaurant with casual dining, your app must have this feature.
If you have a food chain or a restaurant business in UAE, the US or Africa, you can still get the best deal from us here in Uganda. Usually, we can state that you will get an app with all the desired features at as low as $5,000.
Concluding Lines
A restaurant app with cool features can significantly boost your revenue by attracting new customers and retaining the existing ones. You can cope with intensifying competition in the hotel or hospitality sector with an up and running mobile app.
However, as a restaurant owner, you need to avoid these primary mistakes in the hustle and bustle of developing a restaurant mobile application. You can consult a reliable mobile application development company anytime to get their valuable inputs on developing a customized restaurant mobile app that works best for your business.
Freelyformd has gained fame as a leading software development and consultancy firm as we have accomplished several app projects for a global clientele. Safarishare and Tegeka are a few notable examples of our mobile apps.
Our expert business consultants and experienced mobile app developers will guide you about how to make a food ordering app or any other app related to your business needs. Let us join hands to make an awesome app for your restaurant and expand your reach among foodies!